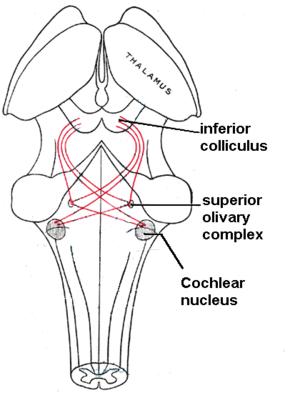 The superior olivary complex

is a collection of brainstem nuclei

that functions in multiple aspects of

hearing and is an important component of the ascending and descending

The superior olivary complex

is intimately related to an axon body known as the
trapezoid body
: most of the cell groups of the superior olivary complex are dorsal to this axon bundle while a number of cell groups are embedded in the trapezoid body.
BECAUSE OUR EARS CONNECT DIRECTLY TO THE BRAINSTEM SOUND AFFECTS THE SYSTEMS OF HOMEOSTASIS.

I_A_M_KEY reaches these

and triggers their alignment with

TO

HEALING

AND

OPTIMAL PERFORMANCE.

COPYRIGHT ld 2003