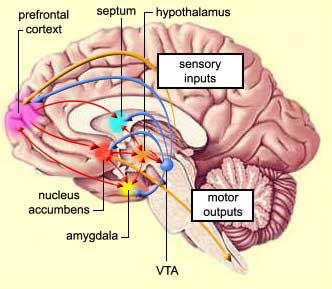 This
brain
region relates to planning complex cognitive behaviors, personality expression, and moderating correct social behavior. The basic activity of this brain region is considered to be orchestration of thoughts and actions in accordance with internal goals.
The neurological function carried out by the pre-frontal cortex area is executive function. Executive function relates to abilities to differentiate among conflicting thoughts, determine good and bad, better and best, same and different, future consequences of current activities, working toward a defined goal, prediction of outcomes, expectation based on actions, and social "control" (the ability to suppress urges that, if not suppressed, could lead to socially-unacceptable outcomes).

BECAUSE OUR EARS CONNECT DIRECTLY TO THE BRAINSTEM SOUND AFFECTS THE SYSTEMS OF HOMEOSTASIS.

MIND MASSAGE reaches these

and triggers their alignment with

TO HEALING AND OPTIMAL PERFORMANCE.